Study Intensive Russian in Vladimir!
STUDY Russian for 3 academic hours each day; TRAVEL to UNESCO World Heritage Sites and other picturesque locations; EXPERIENCE life with a Russian family, enjoying homemade breakfasts and dinners; EXPLORE ancient and modern streets, shops, outdoor markets, museums, theaters and more; INTERACT with some of the hundreds of Russians studying English as a Second Language at the American Home; IMMERSE yourself in language, culture and life.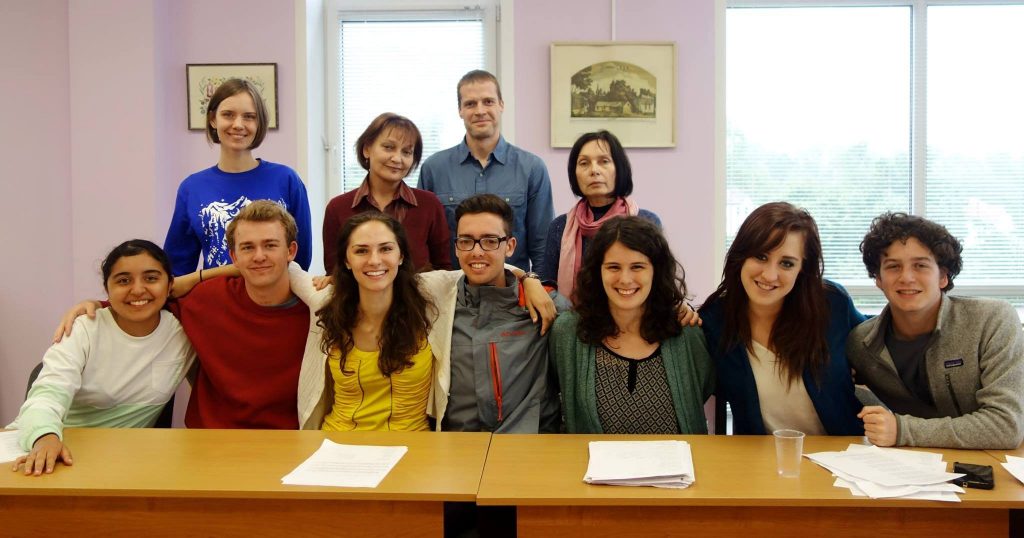 Our teachers with a group of students from Vanderbilt University
An exciting setting: Experience ancient Russia in modern-day Vladimir
The historic city of Vladimir is an ideal setting in which to become immersed in Russian culture.  This 1,000+ year old city of more than 300,000 is located approximately 120 miles northeast of Moscow.  Students are met at the airport in Moscow and driven past vast forests and fields, through villages and small towns to this former capitol of ancient Rus.
During your stay you will travel to the nearby picturesque town of Suzdal, in addition to touring the historic sights of Vladimir.  These include the magnificent Assumption Cathedral and the Golden Gates, both of which have been designated UNESCO World Heritage Sites.  You will become intimately acquainted with the increasingly modern shops and outdoor markets, and visit your new Russian friends in their Soviet-era apartments.
Program Features
Room and board with a Russian family (2 meals a day)
Well-educated native speakers trained to teach Russian to foreigners
Intensive, one-on-one or small group lessons 3 hours a day, 5 days a week
Lessons conducted on the trolley bus, in an open-air market, and elsewhere in the community
Classroom lessons in the comfortable, well equipped American Home where you will meet Russians studying English
15-35% discount for students studying together in small groups at the same language level
"Russian friend-conversation partner" program
On-site administrative support
Set Your Own Dates!
Dates: Open May 10—August 30
although fall and winter dates are possible
Cost: Please contact David Johnson (david.matthew.johnson@vanderbilt.edu)
for a cost estimate of your desired program.
Longer and shorter programs, from two weeks to a year, are possible.
Signup: At least three months prior to departure with a $500 deposit required.
Balance due at least 30 days prior to departure.
APPLY NOW!
To apply to study intensive Russian at the American Home, contact David Johnson at david.matthew.johnson@vanderbilt.edu
Comments from our former students
Blaise Glowiak, Kevin Brown, Anna Edmondson, Kevin Johnson, University of Delaware, summer 2019
Connor Hailstones, Griffith University, Australia, summer 2018:
Jalie Merritt, University of Illinois at Urbana–Champaign, summer 2019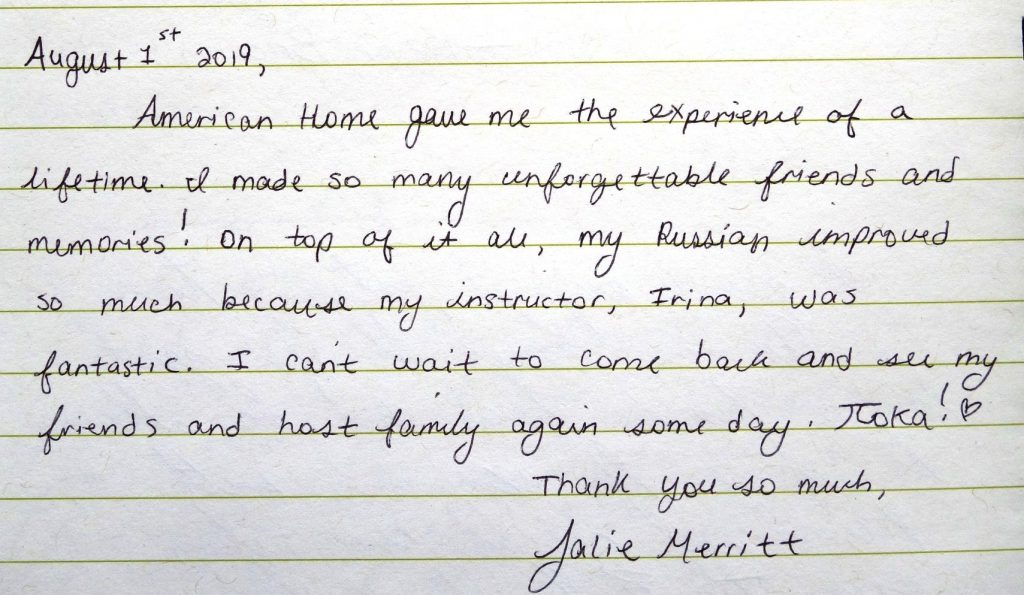 «The American Home was not only instrumental to my success in Vladimir in a host of ways, but really is, and will always be a «home away from home» for me. I am so very grateful to everyone there who took an interest in me, my work, and family, and who made me so welcome. And I must especially thank Nelli and Tanya [Russian language teachers] for THEIR hard work. They managed to combine the exacting standards of true professionals with the sort of humanity and intelligence that made them a delight to learn from. I cannot recommend them highly enough to anyone who wants to study in an authentically Russian and timelessly beautiful place like Vladimir.»
Marlyn Miller, PhD in Russian History, 2009
Brandeis University
mmiller@brandeis.edu
«Two of our students who studied in Vladimir this past summer are in my upper-level literature seminar together with several Russian students. They can hold their own. Their comprehension is excellent. Sometimes they know words the native speakers do not know. They both praise their Vladimir teachers, and they clearly did learn a lot.»
Prof. Lina Bernstein, Chair
Department of German and Russian
Franklin & Marshall College
Studying Russian at the American Home in Vladimir
In my life, I've made three trips that changed how I see things:  the first to Guatemala to adopt my son, the second to Colombia to adopt my daughter, and the third to the American Home in Vladimir, Russia, to study the language and culture through Serendipity.
Until now, you could call me an indifferent student of language; yet two weeks in Vladimir turned me completely around, and for reasons I'll try to explain.  The people, to start with, were wonderful.  I stayed in the home of a woman who spoke at most ten words of English, but pulled out all stops in her efforts to please me. In Russia, this seems to mean feeding a guest at least three times as much as their stomach can hold, namely blini for breakfast, and dinner with multiple courses, including soup, bread, salad, fish, tea, and the ubiquitous chocolate, placed on my pillow at bedtime.
Determined to make the most of my time in Vladimir (and not just at the dinner table) I arranged for three hours of daily individual Russian lessons at the American Home. Like Zina, my hostess, the teacher, Tanya Akimova, spoke only Russian.  This caused me to panic at first since I'd only just started the language;  yet her talent was such that within a few days I was speaking in sentences, going to cafes and stores by myself, telling Zina about my family, even joking in Russian.  In short, I was hooked.
Many others made my stay in Vladimir a joy.  These included Galya and Alexei Altonen, Directors of the American Home who invited me to their home for snacks and the opportunity to meet their luxurious Maine Coon cats;  Tanya Zaitseva, a teacher, who arranged for me to lecture in her school as well as at Vladimir State University;  Nadya Pyanikova, my excellent tour guide, who took me to Moscow and Suzdal;  Nina Zaragoza and the other high-energy American teachers, troopers all;  the American Home staff, utterly polite and efficient; and the many friends of my hostess, Zina, who came by her flat to meet the Amerikanka and, naturally, to bring me gifts.
Lastly, beyond the warm-hearted people, and the excellence of my language instruction, there was something about Russia that eluded description—yet affected me deeply.  It is, as they say, a country of stark contradiction, as even the most cursory knowledge of its history attests.
Perhaps this is Serendipity's greatest gift—facilitating the process by which Americans can peer into another culture, however briefly, and come away with an alternately chilly and snug sense that people everywhere are similar, but also very different—and in ways that can be utterly pleasing and new.
Professor Helen Campbell
Department of Business & Management/Department of Criminology, University of Maryland, University College-Europe
helenscampbell@yahoo.com
I want to thank you for that irreplaceable opportunity to intensify my knowledge of the Russian language and to deepen my understanding of contemporary trends in post-Communist Russia.  Without the auspices of the American Home none of these scholarly pursuits would have been possible.
In the course of daily Russian lessons spread over three months I encountered the best Russian language instruction that I have been privileged to experience in, lo, these many years of seeking to master a most difficult language. Your native-speaker language teachers were both technically proficient and adept at using what I take to be the most advanced approaches to encouraging students to learn a foreign language.
As always is the case, however, one of the most valuable aspects of any language program in situ is the political and cultural acclimatization that is part and parcel of the language instruction experience.  After an 8-year absence from Russia, the opportunity to observe political, economic and social conditions first hand under your auspices was irreplaceable.
The American Home is easily the single most influential American presence in the entire country outside Moscow and St. Petersburg that I have ever seen. Little more than a decade ago, we would have died for the opportunity to do what you are accomplishing in Vladimir.
Dr. Nils H. Wessell, Professor of Government, U.S. Coast Guard Academy, New London, CT 06320
«I have many wonderful memories after two consecutive summers of intensive language study at the American Home in Vladimir.  It is impossible to completely convey just how rewarding this experience has been.  On a practical level, my two summers in Vladimir have enabled me to complete the equivalent of two years of college Russian—and I have an advantage over most of the students in my current third year class when it comes to speaking Russian.  In addition, while living in Vladimir you cannot miss the grand history and magnificent architecture that is located around every corner.  At the American Home I have learned both the language and a great deal about the Russian way of life.»
Peter York, University of Pittsburg
«I speak better Russian than 99% of the foreigners I know in Moscow.  My decision to live in Vladimir is the best one I've ever made.» 
Matt Plischke, Miami University, O
«The 3 1/2 months I spent in Vladimir were absolutely invaluable to me in understanding Russian language and culture.  As a graduate of the Defense Language Institute, a qualified Military Language Instructor, and participant in four intensive language refresher courses, I feel that studying Russian through Serendipity vastly improved my language skills.»
Staff Sergeant Christopher Higgins, Illinois State University
«Vladimir and the American Home are ideally situated.  Here, you have all the advantages of Russian city life, with all the charm of the nearby dachas.  The American Home really is the meeting and mixing point for two cultures.  The Russian lessons and the Russian homestay give you a chance to improve your speaking abilities while experiencing Russian culture firsthand.»
Erika Boeckler, University of Wisconsin, Madison
«Living in Vladimir is the best thing I have ever done to improve my Russian and learn more about Russian culture.»
Rachel Lu Owens, University of Montana