Program Background
The American English program was initiated in the fall of 1992 with three young American teachers and 80 Russian students.  From that modest beginning, The American Home's language school has developed into a highly respected program. The combination of formal classes and informal interaction between the students and the combined American and Russian staff benefits everyone directly involved, as well as the community at large.
The American Home's language school is licensed by the Russian Government as a «Nongovernmental Private Educational Institution.» The Program currently averages several hundred students a semester, with a waiting list for some levels.  The teaching staff usually includes:
nine full-time American teachers,
two Russian teacher trainers,
two Russian teachers for beginners in the adult program,
three Russian teachers who organize our children's program,
two Russians specially trained to teach Russian to foreigners
For those 12 and older we offer eleven semesters of regular classes from beginning to advanced. During the fall and spring terms these classes convene twice a week for an hour and a half each meeting. Additional conversation classes are once a week. During the intensive summer session classes meet three times a week for two hours and fifteen minutes each class period.  Special classes, such as preparation for the TOEFL (Test of English as a Foreign Language) exam, can be provided when there is sufficient demand. Supplementing the formal classes, the American teachers each present a lecture on various aspects of American history and culture during the fall and spring semesters. Additional Saturday activities include American movies, spelling bees and «Brain Fest» competitions (with «trivial pursuit» types of questions), games (e.g., chess, poker, and other card games), along with celebrating Halloween, Christmas and either Mardi Gras or Valentine's Day.  When there has been sufficient interest, the School has sponsored a Music Club and has informally staged several plays.
About 75 percent of students have been studying with us for more than one semester.
About half of the students are in the equivalent of junior high or high school, or are in «post graduation» programs (roughly the equivalent of American junior colleges), or are university students.
Business people, medical professionals, teachers, lawyers, military personnel, engineers, secretaries, people from many other professions, and a substantial number of government officials have taken classes at the American Home.
A significant number of our employed students have told us that, thanks in large measure to their improved command of English, they had been promoted or had found better jobs.
History of the American Home: A Brief History of the American Home (file size 26 MB)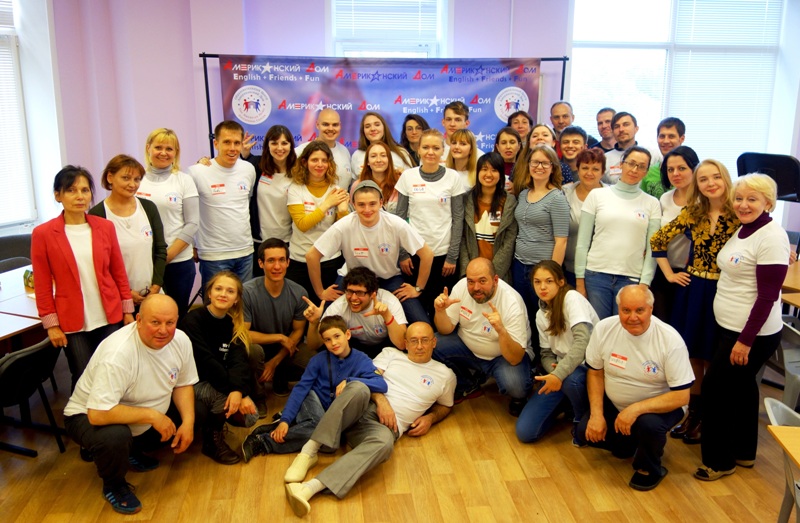 English Teaching Opportunity at the American Home in Vladimir, Russia
*Application deadline is March 1st each year!*
(or until all the open positions have been filled)
The American English and Culture Program has been in continuous operation at the American Home in Vladimir, Russia since September 1992.
This is an exceptional opportunity to experience Russia in a uniquely supportive atmosphere and to accomplish something worthwhile in the process. Previous teachers have commented very favorably on the quality of our facilities and teaching materials; the tremendous support provided by their colleagues, including our dedicated Russian staff; and how much they have enjoyed their Russian students. A significant number of our teachers have parlayed their experience in Vladimir into employment in Moscow or stateside—or into admission to major graduate programs, including top ranked law schools.
Contract period: First or second week of August, depending on the start of the fall term in Russia, through the beginning of July.  (Renewal possible.)
For in-person teaching benefits include:
Stipend
Room and board
Three hours per week of customized individual Russian lessons with faculty specially trained to teach Russian as a foreign language.
Pleasant, well-equipped working environment
Substantial assistance from the knowledgeable and supportive Russian staff
For onliune teaching benefits include:
Stipend
Customized individual Russian lessons with faculty specially trained to teach Russian as a foreign language — depending on the teaching load.
Substantial assistance from the knowledgeable and supportive Russian staff
Teacher Responsibilities:
Applicants must have completed a Bachelor's degree before the beginning of the contract period, and be able to teach American English.
Those hired are required to:
Cover the cost of their airfare to and from Moscow.
Apply and pay for the required Russian visa. The American Home will provide full visa support, including, if needed, assistance with filling out the online visa application, and will pay the required fees in Russia. Teachers are responsible for paying the visa fee and related costs in the United States.
Have health insurance coverage valid in Russia, including emergency medical evacuation coverage. American Home staff will provide all possible assistance with dealing with any medical problems that might arise.
Earn a TESOL course certificate by the beginning of July. Online TEFL courses we can recommend: Bridge TEFL https://bridge.edu/tefl/ – most of our previous year teachers took this one.
Also available

https://www.tefl.org/courses/online/

https://tefluk.com/online-tefl-courses/

https://www.theteflacademy.com/eu/tefl-courses
(If you do not plan on taking the courses mentioned above, you should check with the AH English program staff regarding the acceptability of the course you do plan on taking.)
Provide by the beginning of the contract period upon arrival in Russia:
— A certificate of completion of a TESOL course as noted above, notarized, with an Apostille.
— An official copy of their college or university transcript and their diploma, notarized, with an Apostille.
— A notarized copy of the facing pages of your passport with your photo, signature, and passport number – an Apostille is not required for this document.
— A police (clearance) certificate  — no notarization required. This can go under different names in different states (e.g., Certificate of Conduct, or Good Conduct Certificate, or criminal background check)
You will need to give these documents to the designated AH staff member on your arrival in Vladimir.
NOTE: An Apostille is an internationally recognized certification of the legitimacy of a notarization. You will need to obtain this document from the designated office in the state where you get your documents notarized. In most states, this will be the office of the Secretary of State. A Google search will provide you with the necessary contact information for the office that issues Apostilles for your state. Be sure to apply for the required Apostilles in plenty of time before your scheduled departure for Vladimir.
Application Information
*Application deadline is March 1 of every year!*
(or until all the open positions have been filled)
The link below provides a list of the information and documents you need to submit in order to complete your application, and it includes instructions for the submission of your letters of recommendation. Download the application instructions and apply now!
To assist you with your application, you should send a request for additional information – including a request for a copy of the current version of the contract, contract supplement, and AH Teacher Handbook to serendipity.american.home@gmail.com .
(If you do not receive a reply within 5 days, please resend your request, with a copy to David Johnson david.matthew.johnson@vanderbilt.edu).
If you have any questions about joining the American Home team, please contact the AH Assistant Director Oxana Ustinova at serendipity.american.home@gmail.com
What it's like Teaching Online with the American Home

Comments from former teachers
Tyson Trotz, Sewanee, the University of the South, American Home teacher 2015-2018
Taylor Wilson, Vanderbilt University, American Home teacher 2017 — 2019
Robert Parent, University of Rochester, American Home teacher 2017 — 2019
Zach Smith, University of Rochester, American Home teacher 2017 — 2018 and Scott Buchholtz, University of Richmond, American Home teacher 2016 — 2018
Notes from former teachers
I decided to work with the American home to expand my experience working with different levels of English students. The teachers and staff at the American Home have made teaching online very smooth and easy. They provide all the necessary materials for class; everything was organized and explain in an accessible manner. The teacher trainers and other staff answered my questions promptly and were always supportive with any issues I had. The students are bright and eager to learn, and they're very familiar with learning in an online platform. I would highly recommend working with the American Home if you're looking to expand your ESL teaching experience and meet some wonderful new students and colleagues!
Audrey Murrey, Northern Arizona University, AH teacher 2022-2023
I decided to work with the American Home because I was interested in teaching and the Russian language and culture.  Working with the school provided me the perfect opportunity to learn more about all of these things all while building real relationships with my students and supervisors.  I look back very fondly on my time with the American Home!
I felt incredibly supported with the American Home even though I didn't have much teaching experience before starting.  The orientation made me feel very prepared and help was always offered when needed despite not being face-to-face.  I often felt as though I was learning as much as my students were! That exchange of knowledge was incredibly valuable to me and I looked forward to my classes and meetings.
There were some difficulties of course.  Navigating through changing political circumstances was often stressful.  However, I felt very supported by the staff and truly felt like they had my and other teachers' best interests in mind.  They went above and beyond to make our experience as positive as possible even as things got increasingly difficult.  Teaching online presents unique challenges (student attention, technology issues, etc), however, I found that I was able to overcome these challenges, and again, help was always readily available (even across timezones!)
I will always look back very fondly on my time at the American Home and really recommend teaching there to anyone who is interested in teaching and Russian culture as I'm very pleased I had the experience.
Claire Kopesky, University of Iowa, AH teacher 2021-2022
Teaching at the American Home was an invaluable experience.  It gave me the opportunity to greatly improve some very important practical skills like public speaking, thinking on my feet, and tailoring a message to an audience.
Dana Buckman, Illinois State University and Washington University in St. Louis School of Law
The following is a response to the question, «What are the best things about your present job?»
Hands down, the people. The teachers that I work with are from all over America and all have different educational backgrounds. Most have studied Russian, but not all of them have. We are all teaching for the first time, and teaching EFL in Russia has its own unique set of challenges that we are facing together. The Russian staff at the American Home is also wonderful, and very supportive when we have questions. The students are the people who are really making my experience great though. It's incredible to see their progress in class, and also to learn about their lives outside of school and meet their friends and families on the weekends.
Sarah Forman, University of Virginia
During my time in Vladimir I have been able to learn an immense amount about teaching, Russian culture and language, and myself…. Every day here provides me with new perspectives and experiences that I know I would never have had if I were still in the United States. Coming to Russia as an English teacher is a powerful experience, one that will test you in many ways. It is a great way to immerse yourself in a new culture and to get some valuable teaching experience in the process.
Michael Kogan, Indiana University
I started studying Russian my third-year of college and then graduated knowing that I wanted and needed to learn much more Russian and more about Russia — and what better way to spend the year after graduation than abroad. The Serendipity program was the best way I found to do that. I was able to live with a family, experience provincial Russia (I figured it would be fairly easy to find a way to live in Moscow or Petersburg at some later point), develop my Russian language skills, be part of a community, have a network of other Americans (but not too many) and explore what the other side of the desk is like after 18 years as a student. All of this and more was what I got. My co-teachers were people to learn with and from, and provided a support base — when we learned a new custom, or had a question, we were able to share. The staff at the American Home were also an invaluable and constant resource. Galya had answers to all questions, and the «night guards» were always happy to call a cab for us or drink a cup of tea. And then there were the students. I learned so much from them, about teaching, learning, Russia, them and myself. I had some of the same students for two semesters. It was astounding seeing their improvement, and having them comment on my (constantly growing) teaching skill. I felt that I really gave them a feel for the poems we read, the movies we watched, the words we used — and they, through their learning process, opened up the English language to me. Would I do it again? YES.
Bowie Snodgrass, Vassar
Teaching English at the American Home in Vladimir is the best way I can imagine to get to know Russia. You live with a Russian family and take Russian lessons from an excellent teacher at the same time that you have the support, assistance and friendship of the other American teachers and the wonderful Russian staff. As you get to know your students better they begin inviting you to dinner, to the theater, to go dancing, etc. Thanks to the friendships I've established here, I feel even more comfortable than I did last year in France where I was more familiar with the language and culture. However, I do recommend learning as much as you can about teaching English to foreigners before you get here. There is an orientation before classes begin, but the more experience you have, the more comfortable you'll feel.
Nicole Mercer, University of California at Santa Cruz
I would highly recommend this job, not only to Russian majors, but to anyone with an interest in Russia. Vladimir is a nice place—quiet and provincial, but within daytrip-distance from Moscow. The teachers here all live with Russian families and are offered three hours a week of Russian tutoring as part of their salary, so even though we're teaching English, there's ample opportunity to speak Russian. In terms of teaching English, there are many opportunities in Russia, but I can't imagine finding a better situation than I have here. The staff at the American Home (both Russian and American) is incredibly supportive and encouraging and has been a wonderful part of my experience here. Because of the maximum 2-year contract, there is a constant influx of new ideas and passing on of learned lessons and experience.
Kira Lee, Carleton College
Vladimir offers a real opportunity to immerse yourself in Russian language and culture. Such immersion can be very frightening at first, and that is why working at the American Home is such a plus. Here I am given the opportunity to work with Russians in an atmosphere that is very familiar, fostering, and comfortable. I would certainly recommend it to anyone who wants to experience Russia for what it really is—and be involved in an internship-style occupation that is both flexible and rewarding.
Matt Plischke, Miami University (Ohio)
Vladimir and the American Home are ideally situated. Vladimir is a part of Russia's famed Golden Ring, and the American Home lies in the heart of downtown Vladimir. Here, you have all the advantages of Russian city life, but with all the charm of the nearby dachas. The American Home really is the meeting and mixing point for two cultures. You live and work with a friendly staff and friendly students. The Russian lessons and the Russian homestay give you a chance to improve your speaking abilities while experiencing Russian culture firsthand. The longer I stay, the more I discover how much Vladimir has to offer me.
Erika Boeckler, University of Wisconsin at Madison & Harvard (PhD in comparative literature)
Working in Vladimir is the best thing I have ever done to improve my Russian, learn more about Russian culture, and give myself time to decide what my next step will be.
Rachel Lu Owens, University of Montana
One of the things my current professors [at Columbia University] have pointed out to me is that, for people interested in pursuing anything related to Russian or post-Soviet studies, there's a real advantage to living in a city like Vladimir. Because of the political situation which restricted most travel and research outside of Moscow and Leningrad for so long, a lot of the current specialists are people who may very well not have spent much time outside these two major cities. For this reason, I'm told, the younger Americans who are living in small towns in Russia are seen as possessing a «unique and valuable experience» when compared to those who worked pretty much exclusively in the larger cities.
Jason Muse, Occidental College
Student Comments
The lectures the American Home organizes about American traditions help to eliminate stereotypes….
The conversation classes are a great addition to the regular courses. If we ever have a chance to go to the United States it will definitely be easier to understand people…..
Having 10 different levels of proficiency [i.e., 5 years with two semesters each] is a great thing. The people who are studying with me are all at the same level which allows us to use our time in class efficiently…
(NOTE:  With the addition of a third semester at the A level, we now have a 5 1/2 year program.)
Their extraordinary sense of humor, kindness, understanding, and even their artistic abilities—all this is a great combination in our teachers….
The opportunity to communicate with American teachers is wonderful….
This program is great. The classes are taught in an open, relaxing way, and this makes you feel the same…
We like our classes very much. We don't feel intimidated in the American Home like we do in our regular foreign language classes. When the class is over each day we don't want to leave…
The relaxed system of teaching, the humor, the willingness to answer all of our questions—all of this helps to break down the language barriers…
Everything we talk about is very interesting, as are all the videos. I think they have found the best way of teaching here at the American Home…
The discussions in class, the home work, the audio and video materials—all of this provides a solid foundation for learning….
I took the TOEFL test [Test of English as a Foreign Language—required of all students who want to study in U.S. or Canadian universities] at the beginning of our special class. After just two months I had improved my score by 30 percent!
Parent Comments
Our son is confined to a wheelchair, but thanks to his English classes, he has been able to enter a new world and to be with others. He is able to study a different culture and to feel the warmth and caring of the people who work at the American Home…. We want to thank the administration of the American Home for giving him a chance to study here.
***
Dear Ron Pope!
I am writing to express my gratitude to all the people who work at the American Home. My son has been attending classes at the AH since 2009. And this year I hope his group will continue at the final level.
We are from Moscow.  But fortunately my son lives in Vladimir now, and I split my time between the two cities.  We couldn't find anywhere in Moscow a community like the AH in Vladimir.  The American Home is a wonderful place where children [young people] can communicate with and learn from their peers from the United States.
You do a great job for our children!  My son says that the AH is a place for meeting with interesting people, a piece of true America.  Every time he returns from the AH he tells us about everything they discuss in class.  It's very interesting to learn about how Americans see us, our country.
Thank You very much!!!
It would be great if you could open branches of the American Home in Moscow and other cities.
Ella Igoshina